Na duże zmiany trzeba jeszcze poczekać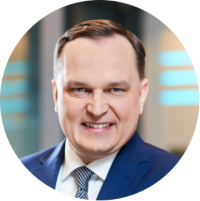 Dla podmiotów niebankowych świadczących usługi finansowe z wykorzystaniem nowoczesnych technologii, czyli fintechów, 14 września 2019 r. to ważna data. Od tej daty bowiem, w uproszczeniu, banki mają obowiązek udostępnić fintechom (i innym third party providers, TPP), spełniającym odpowiednie wymogi regulacyjne i mającym zgody swoich klientów, określone w dyrektywie PSD2 dane z rachunków bankowych klientów banków oraz umożliwić fintechom inicjowanie pewnych rodzajów transakcji. W świetle dotychczasowych zasad funkcjonowania sektora bankowego jest to zatem niewątpliwa formalna rewolucja – do tej pory dane pochodzące z rachunków klientów banków były jedną z najpilniej strzeżonych tajemnic i "srebrami rodowymi" banków, które traktowały je jako swoją przewagę rynkową i którymi dobrowolnie dzielić się nie mogły (i nie chciały).
W tej sytuacji można się spotkać zarówno z opiniami, że fintechy będą mocno konkurować z bankami, jak i że tylko współpraca istniejących i nowych graczy ma biznesowy sens. Myślę, że o tym, która z tych narracji się urzeczywistni, przekonamy się właśnie po 14 września 2019 r., od kiedy zarówno fintechy, jak i banki będą mogły przedstawić rynkowi rozwiązania oparte o uzyskany na podstawie dyrektywy PSD2 dostęp do informacji o rachunkach bankowych klientów.
Paradoksalnie to banki miały do tej pory najwięcej pracy, aby wizja "otwartej bankowości" mogła się ziścić – miały udostępnić fintechom środowiska testowe oraz protokoły wymiany danych (tzw. API). Podeszły do tej kwestii systemowo, wdrażając projekt "Polish API". Wydaje się zatem, że o ile dotychczas banki dobrze wywiązują się z nałożonych na nie przez dyrektywę PSD2 obowiązków, o tyle na przykłady praktyczne rozwiązań fintechowych opartych o "otwarte API" banków będziemy musieli jeszcze trochę poczekać. Wydaje się również, że na razie nie mamy co spodziewać się zalewu fintechowych rozwiązań – np. z rejestru Europejskiego Urzędu Nadzoru Bankowego wynika, że w całej UE zarejestrowanych jest dopiero kilkadziesiąt podmiotów mających zamiar (przynajmniej formalnie) świadczyć usługę dostępu do informacji o rachunku (AIS), a tylko kilkanaście z nich jako obszar swego działania uwzględnia Polskę – w tym część to gracze już znani, świadczący swoje usługi w inny sposób. W mojej ocenie zatem fintechowa rewolucja na rynku finansowym być może nadchodzi – ale w praktyce przyjdzie nam na nią jeszcze poczekać.
Jacek WIŚNIEWSKI, Partner zarządzający #WIŚNIEWSKI.legal
Wypowiedż dla Tygodnika Gazety Prawnej z dnia 13. września 2019 r.
(https://edgp.gazetaprawna.pl/e-wydanie/56900,13-wrzesnia-2019/69393,Tygodnik-Gazeta-Prawna/702934,Rewolucja-w-bankowosci-inna-niz-przypuszczano.-Nadciaga-GAFA.html)
http://wisniewski.legal/wp-content/uploads/2019/04/Header-Wiśniewski-Legal-16.04.2019.png
0
0
Jacek WIŚNIEWSKI
http://wisniewski.legal/wp-content/uploads/2019/04/Header-Wiśniewski-Legal-16.04.2019.png
Jacek WIŚNIEWSKI
2019-09-13 13:10:31
2019-09-13 21:16:18
Na duże zmiany trzeba jeszcze poczekać - wypowiedź dla Tygodnika Gazety Prawnej